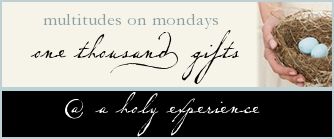 God's Grace....how amazing!
It is so easy to be thankful and appreciative for daily gifts when life is blue skies and sunshine. Not so easy is finding those small gifts when you are ready to get trash bags to "clean up" toys that the kids refuse to touch or feeling the need to pull your own hair out when the day just seems....gross or blah.
But I try.
When my kids are wild, when the house is a mess, when I feel like I am at my wit's end, I've really tried to find the blessings in the chaos.
Much of the time I realize that I am feeling "miserable" because I have made the situation about me. The kids aren't obeying ME, these boys I live with keep dirtying dishes, clothes, and towels for ME to clean up and put a way, the cat keeps making a gross mess just for ME to take care of, nobody will help ME, everybody wants ME to do everything for them.
Life goes so much smoother when I realize it is NOT about ME. It is about HIM. I have to remind myself that I should do everything I do for God. It is, after all, because of HIM that I have the health, children, pets, and "stuff," all of which He can take away at anytime.
So since last week, here are some of the things I've listed in my own gratitude journal:
~ Calvary Baptist Church t-shirt ~
~ full moon hanging over a late night baseball game ~
~ contagious laughter ~
~ Carter dumping socks out of the basket: aka payback for big brothers ~
~ a long chat with Cheryl ~
~ saying good bye to friends ~
~ John 3:16 ~
~ watching our wedding video ~
~ his first wedding ~
~ newlyweds ~
~ feeling like family amongst strangers ~
~ VBS ~
What are you thanking God for this week?