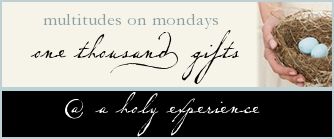 This past week was especially difficult for me. You see, my first born, my oldest, my baby (although he will be 10 this month), went away to camp.
For the first time.
Without me.
Yes. It was difficult.
So, today for my Mulitudes on Monday list, I'd like to share some of the gifts brought on by camp, plus some not related. Soon I'll do a post entirely about Colin's experience.
~ praying for Colin over the phone ~
~ missing him badly ~
~feeling productive when I clean the kids' rooms~
~ shucking corn with my little ones ~
~ a surprise lunch date after I was stood up ~
~ a surgery that went well ~
~ getting almost all of the laundry done ~
~ a "cool" day before the heat comes ~
~ a special anniversary ~
~ the chipperness in his voice ~
~ cooking breakfast for my husband ~
~ lunch with a friend ~
~ deer coming out at twilight ~
~ spotting the back of Colin's head among tons of other kids ~
~ a bad hotel experience that turned into something better ~
~ a toddler laughing in his sleep ~
~ watching Colin march in to his Space Camp graduation ~
~ Colin's The Right Stuff Award ~
~ Colin's Robotics Award ~
~ A long hug when I finally get to wrap my arms around him ~
~ choking back tears when his name is called for The Right Stuff Award ~
~ hearing the pride in his daddy's voice as we watch our home video ~
~ two little brothers who are excited to see their big brother ~
~ eating take out as a family in a hotel room on the floor ~
~ Colin's reading of "The Ragged Ol' Flag" ~
Johnny Cash would be proud!
~ my children singing during church service ~
~My man in uniform holding the American Flag ~
~ a preacher who isn't afraid to preach God's Word ~
~ lunch and fellowship at church ~
~ an afternoon of staying cool in the pool ~
What are some things you have found joy in this week?